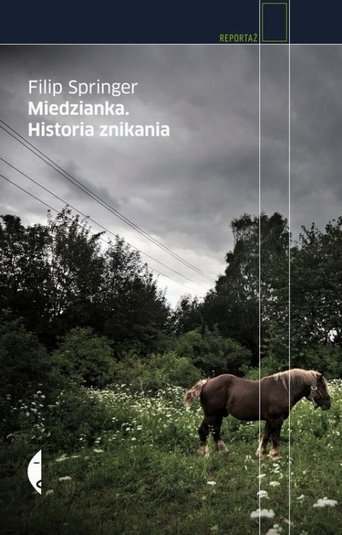 "Miedzianka. The Story of Disappearance"
Miedzianka. Historia znikania, reportage,
Czarne 2011, 272 pages,
ISBN 978-83-7536-287-9
Coppferberge, Kopferberg, Kupferberg, Miedzianka ? a tiny town near Jelenia Góra which is no more. Nor is the City Hall Restaurant where gossiping women would cringe with disgust when their husbands started singing: ?If you had another mother-in-law?? Gone are the parties when dancing couples would swirl to the music of Martin Lehmann?s saxophone. The brewery, the paper factory, the mason and other craftsmen?s shops ? they are all gone. There is no Mrs Trenkler the shirt-maker, Mrs Assman and Mrs Alex the bed linen makers and Mrs Breuer the seller of bread and eggs.
There is no graveyard by the road to Mniszków that overlooked the Rudawy Janowickie hills, although local people still remember how gravestones were torn from the ground by tractors and dogs would drag human bones all over the village.
Filip Springer devoted two years of research to find out why a town with seven centuries of history disappeared from the face of the earth. Was it because of the wasteful exploitation of uranium deposits by Russians in 1948-1952? Or were mining damages used as a pretext by the authorities to knock down the whole town in an attempt to bury a secret?
Reviews:
?Filip Springer calls himself a homegrown archaeologist and sets off for Lower Silesia.With his brush, gently, detail by detail, he discovers and recreates the fascinating history of Kupferberg ? Miedzianka, a small town between Jelenia Góra and Kamienna Góra, and its inhabitants.At one time, Kupferberg was a town of miners, and briefly a tourist attraction and respite for patients.Situated on a summit, for six hundred years it lived off the turmoils of war.Until the Red Army reached it and uranium ore was discovered nearby?This journalistic tale reads as a thriller, with bated breath, although it is clear that the ending is not at all happy."
– Ewa Winnicka, Polityka.
?Springer marvellously describes the atmosphere of terror, silence, the latent suffering of those people who felt firsthand the effects of the arms race and the momentum towards nuclear weapons. The search for uranium ended in 1952, the town was rapidly abandoned, and now there are only ghosts and dark tales.?
– Paulina Wilk, "Rzeczpospolita"
"The disappearance of the town began with a cherry tree that one day was engulfed by a chasm in the earth. Houses, tombs, and people collapsed.What made the 700-year-old town disappear?Was all the destruction caused by the Russian uranium extraction between 1948-52?Or perhaps the guilty party is the Evil Woman mentioned by those who abandoned Miedzianka.This polyphonic tale of Miedzianka does not answer all these questions, but the memory of the town which disappeared has been perpetuated forever."
– Beata Kęczkowska, Gazeta Wyborcza
?The archaeologist, ethnologist, journalist and photoreporter displays an extraordinary talent for telling a story in ?Miedzianka?.Everything is masterfully balanced, including the story?s pace ? when you read with interest about the past glory of Kupferberg it already seems that you know it will be a nostalgic memoir, with the advent of Polish settlers dramatic tension sneaks in, which reaches its zenith in the chapters on the uranium mine.?Miedzianka…?is also the result of impressive documentation.?
– Magdalena Piekarska, Gazeta Wyborcza Wrocław